Yes, I might be a sophomore in high school, but I am pretty much ready to apply to my dream school and declare my major. Most of the dorms that I have seen look gross, to put it bluntly. I AM A BIT OF A MINIMALIST, SO I WOULD PROBABLY USE ONLY ONE OR TWO OF THESE IDEAS AND KEEP THE REST OF THE ROOM CLEAN AND PLAIN WHITE. Here are some Pinterest-approved decoration ideas that can be achieved through tape and Command strips.

{AS ALWAYS, CLICK THROUGH FOR IMAGE CREDITS}
---
FOR YOUR STENCH
Compagnie de Provence is kind of a more tastfully-unified, French version of Bath & Body Works. Kind of. It's twice as expensive to order from the US. This room spray is worth every penny. It will freshen even the mustiest, most vile room with its clean, sweet verveine scent. They have a whole range of pretty scents, and all sorts of lotions, body washes, soaps, fragrance diffusers, bubble baths, etc. You'll make everyone around you jealous, probably.
Here's one that takes a little dedication: fresh peonies. Yikes. This is only for the highly-motivated types who actually most likely do not have much of a stench in their room. If your roommate is good with it, and you are willing to skip coffee for a day or two to pick up some of these without chipping more away from your savings, and if you are planning on giving them water and throwing them away as soon as they've died so they aren't sitting and rotting on your windowsill for four months, these will make any space smell (and look) amazing.
---
FOR YOUR DOORS
Using adhesive tape or removable decals, add polka dots in one or two colors to a boring wood door to add class and interest. Navy blue is always a great option, or if you are a generally homesick person, pick your high school's colors.
This is a variation on the polka-dot idea, but you can fancy-ify your door as shown by creating your own washi tape moulding on your slab of wood that never seems to be quite soundproof enough. (Target has some cheap, pretty options for the tape!)
Snag some of these Etsy-made star banners for the back of your door. They are super lightweight, which means cleverly-placed tape can hold them up. Never overlook Etsy when shopping, because you are always able to find cheap, unique, and well-made options on there.
---
FOR YOUR

WALLS
To freshen up an otherwise nasty little space, use simple white bedding and print up all of your most colorful photos that generally look good together. (The cliché "I am trying to be a cool photography student but actually my major is in finance" move would be black and white or Polaroids). Instead of the normal photo collages commonly seen in dorm rooms, make a full photo wall, and maybe invest in getting bigger prints than the standard size.
Leaning to the pricey side, tassel garland banners look pretty against white walls. If you are willing to pay about thirty dollars a pop, hit up Etsy for some pretty designs. I personally like to think out of the box a little bit, so to avoid the standard one-banner thing, I would buy a bunch of the same color scheme and pile them up thick!
---
FOR YOUR DESK AND TABLES
Fairy lights. Here's a fun drinking game: walk past some dorms on moving day, and take a shot for each string of fairy lights you see hanging on the walls. If you have to have them in your room, try string light terraniums with cheap glass covers that can be found at Target or a craft store and place them on the floor (if you are lucky enough to have excess space) or on your desk and shelves.
Using pretty colors and glass votives, make watercolor votives for your battery-powered tealights. Put them everywhere as your primary (or only) decorative element. Trust me, it will look cool.
More tape! This stuff can go anywhere. Cover your workspace for a washi-tape desk. Possibly distracting, but an attractive idea. At three dollars a roll, you can probably afford to stock up for multipurpose decorating.
---
FOR YOUR BATHROOM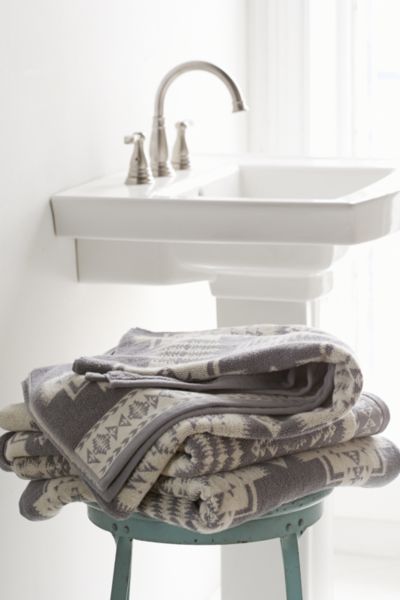 Use a pretty beach towel as your bath towel. There are always great sales on nice towels that will last for ages during winter months, if you can think ahead that far! Make sure you realize how much space you have (in both where you store these towels and the washing machines in which you clean them) before making your purchase!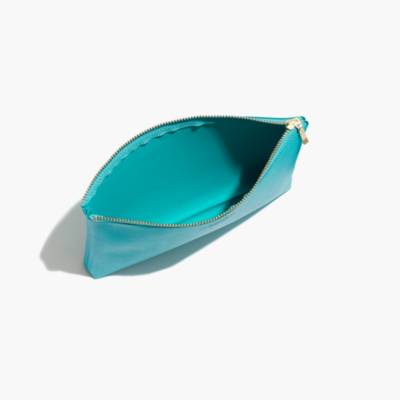 Do not read this if you are a makeup hoarder with immense sentimental investment in your collection. Get a small cosmetics bag to house your slimmed-down makeup collection. It sounds horrific, but less is more. Really. Allow yourself one pretty yet compact case, like the $20 one above from Madewell that I am currently heart-eyed over. (It also comes in white and black!) Keep only what you could not leave your dorm without: a signature shade or two of good-quality lip color, an easy-to-use eyeliner, a trustworthy mascara, a concealer, a foundation, and a powder AT MOST. Wash your face right. It will pay off for both your looks and your wallet.
STAY LOVELY, READERS