IT'S THAT TIME OF YEAR…
There is a .000001% of me getting asked to prom this year (which is absolutely fair since sophomore prom does not exist), but I can not help but try to pull a few gems out of the piles and piles of trashy, cheap-looking dresses that clutter the face of this sorry earth. It seems as though each and every gown is either weighed down by too many gems and sequins, or shows enough skin that you might as well go in the nude. I prefer a preppy, classy look, which is hard to find around for a decent price. I also would want a unique dress that will not show up on five other girls who look better than I would. Here is my roundup of the prettiest dresses I could find. Click through the photos for the links to either purchase or rent, depending on the one you pick. I hope some of these will still be around for next year!!
BADGLEY MISCHKA – UTOPIA MAXI – $70 RENTAL

The reviews are raving, and you will notice that Rent the Runway and prints are two recurring themes.
ANTHROPOLOGIE – sakura blossoms gown – $275
I love how airy this dress is! I would need to see it in person, but I think it would look lovely with silver Jack Rogers. (No heels for me, because I personally prefer not to be able to see over skyscrapers for the most part).
J. CREW – CARLY LONG DRESS IN DRAPEY MATTE CREPE – $218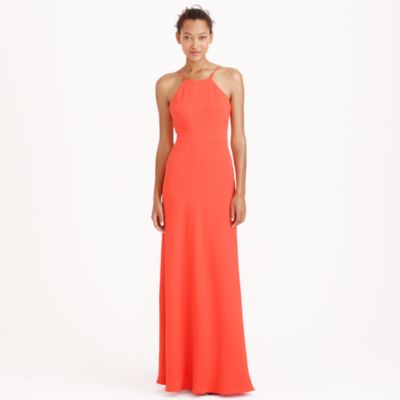 I am absolutely not in good enough shape to wear this, but oh my goodness, I wish I could! Watch out for backordering in several of the size and colors it comes in.
BADGLEY MISCHKA – water lillies dress – $135 rental
Looks like it is the same exact fit as the Utopia maxi shown above! This is the type of print that could easily look trashy and cheap if you dress it up wrong. I would wear miminalistic makeup, simple earrings, and a pretty updo in order not to cause a very nice dress to look drab.
ADRIANNA PAPELL – short sleeve sequin mesh gown – $278
This is clearly the most glamorous option on the list. Lead is my favorite color option, but the navy shade is gorgeous, too! I am not usually into the whole sparkle thing, but for this dress, it does not look trashy at all.
BADGLEY MISCHKA – CORUNDUM SAPPHIRE GOWN – $80 RENTAL
Same formula as the other Badgley Mischkas featured in this post, but a solid color. This is definitely my favorite, since it is classic and so simple. My only concern is for how my the bust area will be clearly flat (I have a twelve-year-old boy's chest) without a pattern to distract.
STAY LOVELY, READERS