I HAVE BEEN KEEPING A LITTLE LIST OF DRUGSTORE BEAUTY PRODUCTS THAT I NEED TO TRY. A WEEK OR SO AGO I MANAGED TO HAUL ASS DOWN TO THE NEAREST (AKA THE LEAST FAR) TARGET. HERE'S THE RUNDOWN ON WHAT I CHECKED OFF THIS LIST.
RIMMEL STAY MATTE FOUNDATION
This foundation is my new go-to base. Overall, I was thoroughly impressed from the moment it touched my skin. Be warned: the lightest shade (Ivory) is very light. I have very pale skin with this very strange yellow-pink undertone that is hard to deal with. My skin isn't darker, it's just a different color than this. This can be fixed with a little powder, but be warned that it is essentially porcelain-colored.  It's very heavy, and gives amazing coverage, so use it sparsely! Some pretty heavy-duty scrubbing is required to get it off, but I do it because otherwise, it would absolutely make my oily skin break out. I also would not recommend wearing this every day for that reason… while the matte qualities are perfect to conceal oily skin, its thickness can cause some breakouts that I'd rather not have to deal with. Still, I love this stuff.
NEUTROGENA HEALTHY VOLUE MASCARA
This mascara is great overall. I like it a bit more than my old favorite, Covergirl LashBlast Fusion, and the prettier packaging is a plus. The brush is huge and plush (insert winky emoji here), which feels really nice during application. I use the plain black color with Korff Infinity lengthening mascara that I got in Italy. (I am currently working on finding a comparable version available to this Korff stuff on American soil, but it's hard because nothing is living up to it.) This gives me long and volumous lashes like never before.
L'OREAL INFALLIBLE SUPER SLIM LINER
I have never used liquid liner before, so I did some reading before picking this up. It's like using a watery Sharpie on your eyelids. It's very dark and bold, which is annoying when I make a mistake, but it stays all day, which is a luxury to me because of my usual gel liner habits. It's surprisingly easy to apply, and I think I will be repurchasing this.
NEUTROGENA OIL-FREE MOISTURIZER FOR ACNE
My skin is dry beneath the oils, if that makes sense. Meaning, whenever I use even a little cleanser, the oil clears up and the surface is scaly as ever. I picked this up on a whim, as I use the exfoliating wash from this same line. After using it a bit, I can say it was nothing spectacular. My skin looks and feels the same overall.
NEUTROGENA MOISTURESMOOTH COLOR STICK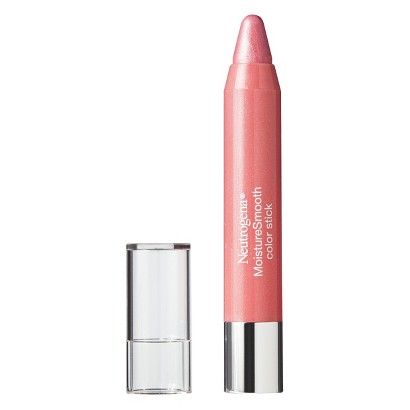 This is by far the best thing I purchased on my little adventure in the Target beauty aisles. I got the pictured color, Sweet Watermelon, and it's stunning. I give this product an a+++ overall. I wish that it lasted longer, as it will not last you through breakfast, but reapplication is easy, like with any lip crayon. The tint, as I said, is lovely, but the moisture is what really won me over. My lips have never felt so soft! (Also, it smells like candy. Bonus points.)
STAY LOVELY, READER